Resources
Universal Veterans License Plates
An individual interested in the Universal License Plate "The Universal Veterans License Plates" are now available through the office of the Secretary of State. Decals depicting Branch of Service and Theater of Action to be affixed to these plates are being distributed through Department Headquarters.
Below are samples of the decals and how they are affixed tot the plate, along with available decals for purchase. These decals will not fit the motorcycle plate. There are no plans to produce a decal to fit the motorcycle plate.
If you wish to purchase decals, please submit the form below or print and submit the paper form.
If you are unable to complete your payment, please try again later or call (309) 663-0361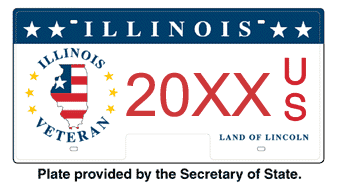 Theater of Action Decals Available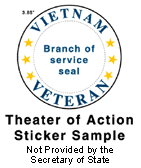 Afghanistan Veterans
Atomic Veterans
Bosnia Veterans
Cambodia Veterans
Combat Veterans
Cuba Veterans
Desert Storm Veterans
Distinguished Flying Cross
Distinguished Service Cross
Dominican Republic Veterans
Grenada Veterans
Haiti Veterans
Iraqi Freedom
Korea Veterans
Korean Era Veterans
Laos Veterans
Lebanon Veterans
Panama Veterans
Persian Gulf Veterans
Silver Star
Somalia Veterans
Vietnam Veterans
Vietnam Era Veterans
WWII Veterans
Branch of Service Decals Available
$4.00 each sticker sold separately
(effective 10/9/07)